Professional asphalt repair in Akron
Without proper asphalt repair, the integrity of your pavement will suffer and the cost to fix it can be extremely expensive. It's not just about protecting your property from damage; it's also about preserving the aesthetic beauty of your home or business. Whether you have a large parking lot or a small driveway, asphalt repair can make a huge difference in the overall appearance of your property.
Potholes, cracks, and other damage can quickly turn into a hazard if they aren't addressed quickly and correctly. With professional asphalt repair, you'll be able to keep your pavement in top condition and ensure that everyone who visits your property stays safe.
Choose Tire City Asphalt Solutions
Tire City Asphalt Solutions is a one-stop shop when it comes to asphalt repair referral services in Akron, OH. We match you with asphalt contractors who hace have the know-how and experience to tackle any job, big or small. With their focus on quality workmanship, you can rest assured that the job will be done right the first time. From cracks in driveways to potholes on roads and parking lots, our asphalt repair company has the solution.
Our partners use the latest industry tools and techniques to ensure your asphalt repair needs are taken care of quickly and effectively. Here's just a few reasons why you can count on our partners:
They utilize a hot mix process that ensures the new asphalt is properly bonded with the existing surface.
They use specialized machines to guarantee a smooth finish.
Our team is trained in the proper techniques for ensuring a secure patching job.
Our professional service combined with our commitment to customer satisfaction make us the perfect choice for all your asphalt repair needs. With our team of experts, you can rest assured knowing that your project will be completed correctly and effectively, leaving your property looking great for years to come!
Do you need asphalt repair?
Asphalt repair in Akron, OH is typically needed when you notice signs of wear and tear on your property. These signs can include cracks, potholes, and other surface damage that can cause further problems if left unaddressed. If you own a business and have an asphalt parking lot or driveway, it's especially important to keep up with regular maintenance and repairs.
By getting asphalt repair services regularly, you can ensure that your property looks great while also avoiding costly repairs down the line. Plus, having a well-maintained property gives visitors a sense of security and reassurance that they are entering a safe space. It also shows that you take pride in your home or business by taking the time to care for it properly. So don't wait any longer – get started on making your property look its best today!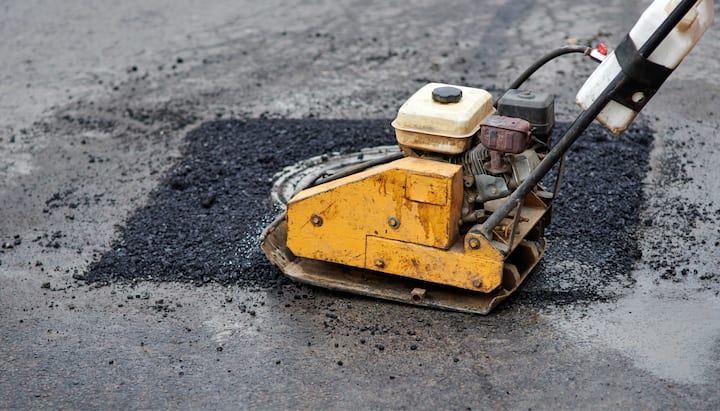 Get in Touch With Us
To get in touch with us here at Tire City Asphalt Solutions today, please give us a call or complete our contact form! We will be more than happy to discuss your project with you.
Explore the benefits of asphalt repair
Asphalt repair is a great solution for many different problems associated with asphalt surfaces. It's an affordable, long-term solution that can help improve the look and feel of parking lots, driveways and pathways. The main benefit of professional asphalt repair is that it's cost-effective – there are no expensive materials or labor necessary to get the job done. It also helps extend the life of your pavement, saving you money in the long run.
Another major benefit of asphalt repair is that it can be completed quickly and with minimal disruption to your daily activities. This means less time wasted waiting for repairs to be completed and more time spent enjoying the improved appearance of your property instead. Plus, asphalt repairs tend to last longer than other pavement solutions due to their durable nature, so they won't need to be replaced as often as other materials may need.
Not only can you save money on costly repairs down the road, but you can also rest assured knowing that any asphalt repair project will be handled professionally and safely by experienced technicians who know what they're doing. With their help, you'll have an attractive outdoor space that looks great and stands up to wear and tear over time. And when it comes time for maintenance or repairs again, you'll have a team ready to do the job right!
Asphalt driveway repair FAQ
Asphalt driveway repair is one of the most popular asphalt repair services. Let's take a look at some of the most common questions:
Q. How much does it cost to repair an asphalt driveway?
A. The cost of asphalt driveway repair will depend on the extent of the damage and the type of repair needed. Minor repairs such as filling small cracks and potholes can be done for around $50. Larger repairs such as hot asphalt patching may cost up to several hundred dollars. A full asphalt replacement may cost upwards of $1,500.
Q. How long does it take to repair an asphalt driveway?
A. The amount of time needed to repair an asphalt driveway will vary depending on the extent of the damage and the type of repair needed. Minor repairs typically take less than an hour, while larger repairs may take several hours or more. A full asphalt driveway replacement may take a few days to complete.
Q. Is it better to repair or replace an asphalt driveway?
A. Whether you should repair or replace your asphalt driveway will depend on the extent of the damage. In most cases, minor repairs such as filling small cracks and potholes can be done relatively easily and inexpensively. However, for more extensive damage, such as large cracks or potholes, a full asphalt replacement may be necessary.
Must-knows of asphalt parking lot repair
Asphalt parking lot repair is an essential part of maintaining a safe and aesthetically pleasing environment for your business. Here are some things you should know about asphalt parking lot repair:
 Sealing cracks can help prevent water from entering and damaging the pavement.
Regularly inspecting the surface will help identify any potential issues before they become larger problems.
Applying a sealant after repairs can help protect against future damage.
 Pothole repairs should be done as soon as possible to avoid further deterioration of the pavement.
Regular maintenance on the lot can help extend its life and improve its appearance.
So why exactly should you get into asphalt parking lot repair? It not only helps maintain safety, but also has a positive impact on property value – who doesn't want that? Not only that, but it also improves curb appeal, making it easier to attract customers or tenants if you own a business or rental property in the area. In short, asphalt parking lot repair is an investment worth making!
Improve the look of your pavement with asphalt crack repair
Cracks in asphalt can be a real eyesore, and more than that, they can lead to more damage if left untreated. Luckily, there are several ways you can repair them quickly and easily.
One of the most popular methods for dealing with cracks is to fill them with asphalt crack filler. This material is designed to bind the edges of the crack together and prevent any further damage from occurring. It's easy to use and can be applied in just a few minutes. You'll need some protective gloves, a brush or squeegee, and a supply of asphalt crack filler. Then just spread the filler over the crack, taking care not to overfill it as this could cause further cracking down the line.
For larger cracks or those that have been neglected for too long, it may be necessary to call in an expert or rent some special equipment. Professional asphalt repair comtractors will know exactly how to patch up your asphalt so that it looks good as new again. Contact Akron locals' go-to asphalt company today for long-lasting asphalt repairs!