Professional Parking Lot Striping in Akron Ohio
Property managers and business owners in Akron, OH face a unique challenge when it comes to parking lot striping and traffic marking. Without the proper implementation of these elements, parking lots can become chaotic and difficult for customers to navigate.
Tire City Asphalt Solutions matches you with asphalt professionals who specialize in property management striping and traffic marking services. They utilize the latest techniques and products to ensure that the end result is aesthetically pleasing while also providing long-term durability.
What is parking lot striping?
Parking lot striping is the process of painting visible lines in a parking lot or other traffic flow area. These painted lines are used to designate where vehicles should be parked, and also indicate pedestrian pathways, no parking zones, and other safety areas. In addition, traffic marking can include arrow markings for directional guidance and symbols for stop signs and other road signs. Parking lot striping is an important part of creating a safe environment for drivers and pedestrians alike.
Adequately marked parking lots reduce liability issues by providing clear guidelines for motorists and pedestrians to follow. Striped parking lots are also more aesthetically pleasing than those without striping. By utilizing different colors and patterns, property owners can customize the look of their parking lot while ensuring it meets all safety requirements. Furthermore, well-maintained striped parking lots provide better visibility of hazards at night or during inclement weather, making them safer overall.
How can parking lot striping and traffic marking benefit you?
Striped parking lots offer numerous benefits for property managers and business owners in Akron, OH. Let's take a look at how parking lot striping can benefit your business:
Properly marked parking lots improve safety by creating designated areas for vehicles to park without blocking path of travel.
They also create clear boundaries that help reduce the risk of accidents caused by drivers misjudging the size of their vehicle or the space available.
Striped parking lots also increase customer satisfaction by helping drivers find an available spot quickly and easily.
Additionally, they can be used to display company logos or other promotional messages that may further entice customers.
Moreover, well-marked parking lots can maximize the use of space by helping determine how many spots are available for vehicles within a specific area. This not only saves time but also reduces frustration from customers who may encounter overcrowded areas if too many cars are parked in one area. Furthermore, correct striping lines can help discourage illegal parking or unauthorized vehicle access on private property. In short, proper striping and markings can prove invaluable for property managers and business owners in Akron looking to provide an efficient and safe environment for their customers.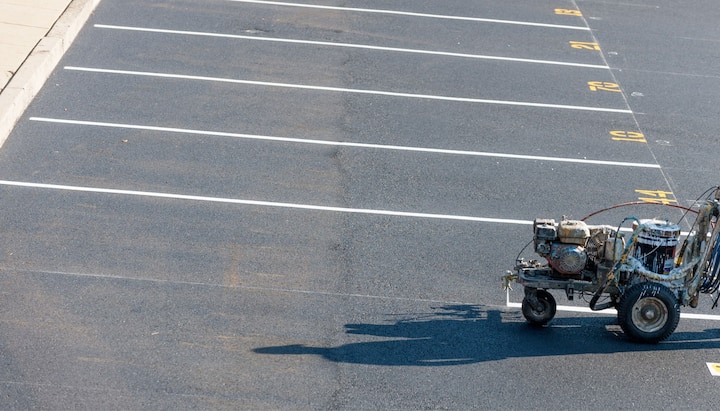 Get In Touch
To get in touch with us here at Tire City Asphalt Solutions today, please give us a call or complete our contact form! We will be more than happy to discuss your project with you.
Fire lane marking: a crucial component of parking lot striping
For property managers and business owners in Akron, Ohio, fire lane marking is a crucial part of parking lot striping and traffic marking. Fire lanes are designated spaces near an emergency exit that provide quick access to firefighters and other emergency personnel. This type of striping is used to clearly identify these areas while preventing public vehicles from parking in them. Fire lane striping must follow the local regulations set by the Akron fire department.
Fire lane striping typically involves painting a bright red line along the edge of the designated area, with arrows pointing towards the exit doors leading out of the premises. Signs must also be placed along the marked lanes warning drivers not to park in them. If a vehicle is parked in a fire lane, it can prevent firefighters from taking vital equipment into the building or even block their path completely. For this reason, it is important for property managers and business owners to ensure that all fire lanes are properly marked and visible at all times.
Creating accessible parking spaces
Creating accessible parking spaces is a critical part of ensuring that all individuals, regardless of their physical limitation, can access the amenities available on your property. It is of utmost importance for property managers and business owners in Akron, OH to understand the requirements of the Americans with Disabilities Act (ADA) when it comes to creating accessible parking spaces.
The ADA requires that designated handicap parking spaces are clearly marked with signage, which must include the international symbol of accessibility. The size requirements for these spots must meet minimum specifications so they are easily identifiable. Additionally, these spots should be located as close as possible to an entrance or exit ramp depending on the building layout or other circumstances. Property managers and business owners in Akron should also be aware that these designated parking spaces need to adhere to specific striping standards and traffic markings in order to comply with the law.
It is important that property managers and business owners take measures to ensure their property complies with ADA regulations when it comes to creating accessible parking spaces. By doing this, they will provide a safe and comfortable experience for those who require special accommodations while visiting their property – an act of kindness that could make a world of difference for many people in Akron.
How much is parking lot striping?
Parking lot striping and traffic marking can be a cost-effective way to improve the safety, appearance, and overall value of a property. The cost of parking lot striping depends on several factors such as the size of the area that needs to be striped, the complexity of the layout, and any additional features like arrows or symbols that may need to be added.
In most cases, businesses in Akron, OH can expect to pay between $0.50-$1.00 per linear foot for basic parking lot striping. More complex layouts with arrows or symbols will generally cost slightly more. Stripers may also charge an additional fee for materials such as paint and stencils. It is important to ask for an estimate before any work begins so that there are no surprises when it comes time to pay the bill.
Maintenance tips after parking lot striping
Once the parking lot striping and traffic marking is complete, it is important to take steps to maintain the freshly painted lines:
To ensure that the newly striped lines remain visible, it is recommended to regularly wash away any dirt or debris. This can be done by using a pressure washer and cleaning agent.
Additionally, if there are areas of fading, they can be touched up with paint. It is also recommended to inspect the striping periodically for any signs of deterioration and repair them as needed.
It is also essential to keep traffic flowing in the right direction at all times. To do this, one should make sure vehicles are not entering or exiting from the wrong lane.
It may also be necessary to rearrange signage or add new signs if traffic patterns change over time.
Lastly, one should ensure that all parking spaces are clearly marked with appropriate signage and guidelines so that visitors understand where they can park as well as how long they can stay in those spots.
Get a local estimate for parking lot striping from Tire City Asphalt Solutions
Property managers and business owners in Akron, OH can get a local estimate for parking lot striping from Tire City Asphalt Solutions.
When you request an estimate from Tire City Asphalt Solutions, you can rest assured that you're getting:
1. Quality workmanship from experienced professionals
2. Comprehensive and affordable solutions
3. Fast service with minimal disruption to your business or property
Our network will help you customize the layout of your parking lot to ensure the safety of your customers, tenants, or employees while also creating an attractive aesthetic for your property. Our asphalt contractors use top-grade thermoplastic materials that are designed to last through years of wear and tear due to weather conditions and heavy vehicle use. Get in touch with one of Akron's leading asphalt companies today to get started on a beautiful new look for your parking lot!